EARTHNET INSIGHTS
Transform subsurface data into actionable insights
Review outcomes, pull together predictions and create geographically meaningful data visualisations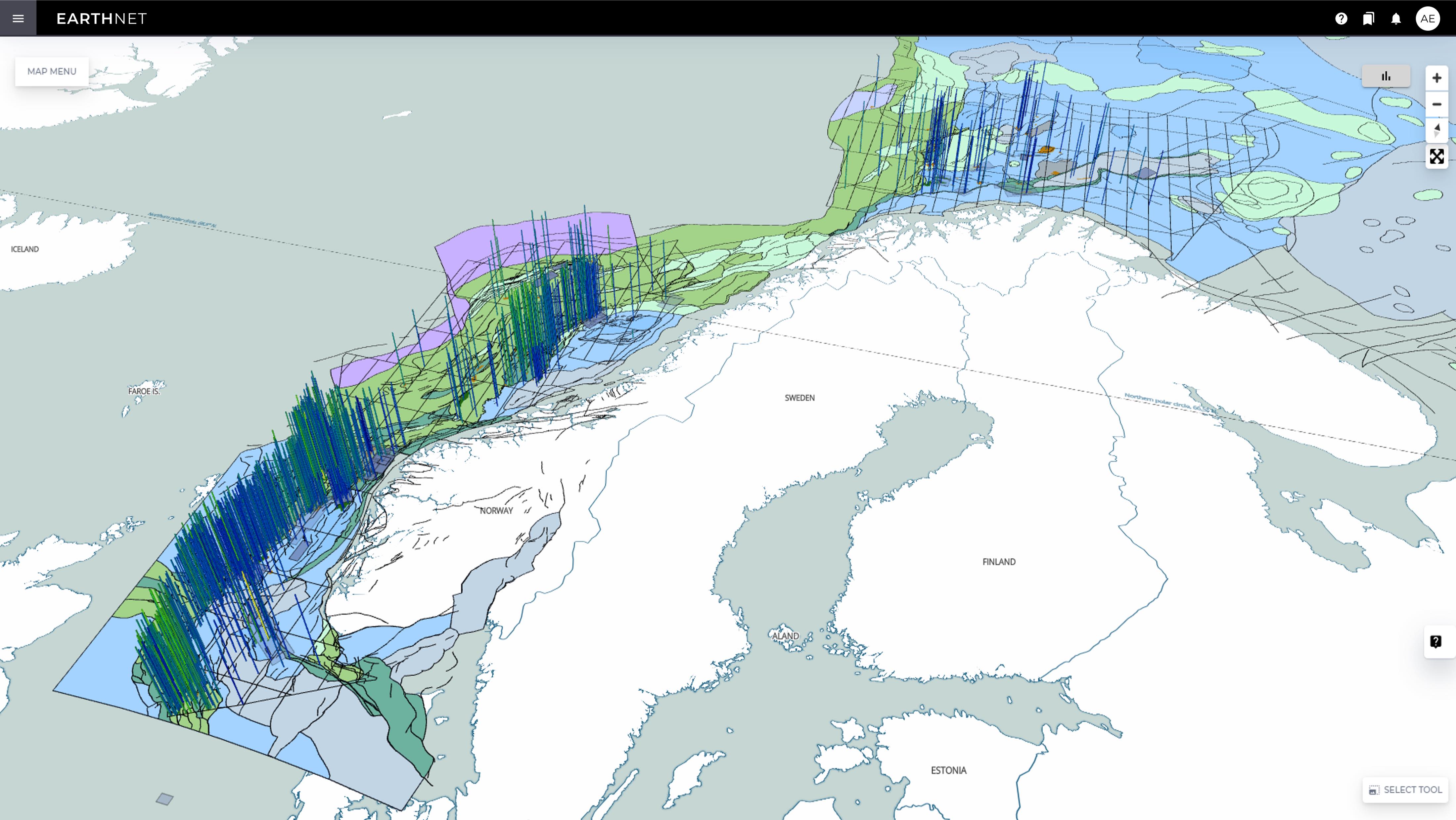 FROM INFORMATION TO INSIGHTS
Decision-making support tool powered by AI
EarthNET Insights brings together Human and Artificial Intelligence to solve the problems in the subsurface. This quantitative decision support suite is where your findings come to life by combining domain expertise with AI to bring technical study results into your decision-making process.
MAP PLOTS
DATA FILTERING
RESERVOIR EVALUATION
Map plots

Our map plots allow you to visualise your AI-interpreted data in a geographical context, making it easier for you to understand the relationships between different properties. The maps can also show geographical and cultural data such as coastlines, basin outlines, well locations, infrastructure, license polygons, and block boundaries.

Choose from a variety of visualisation options, including blobs, bars, and histograms, to better understand the distribution of your data. Use kriging and interpolation techniques to create property distribution maps that show predictions of the property values between wells.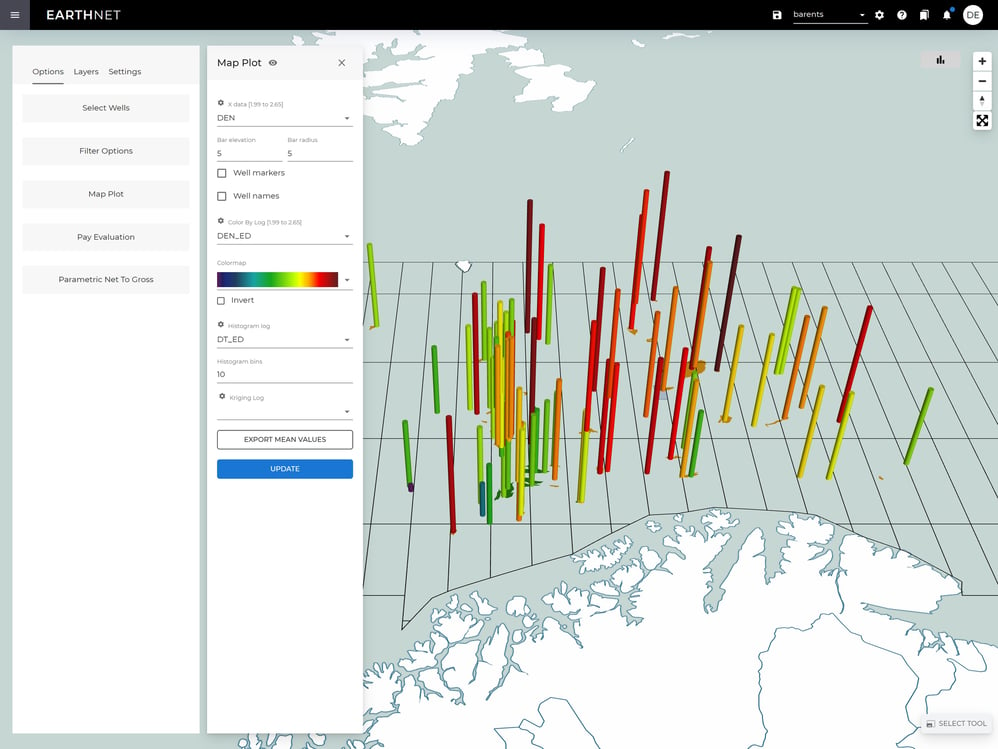 Data filtering

Choose what information you want to display on the map by selecting from your available data sets. You can do this by filtering on wells, formations, lithology, depth, data quality, reservoir & pay flags, and log value ranges. This allows you to formulate questions you want answered in the form of map based graphical visualisations.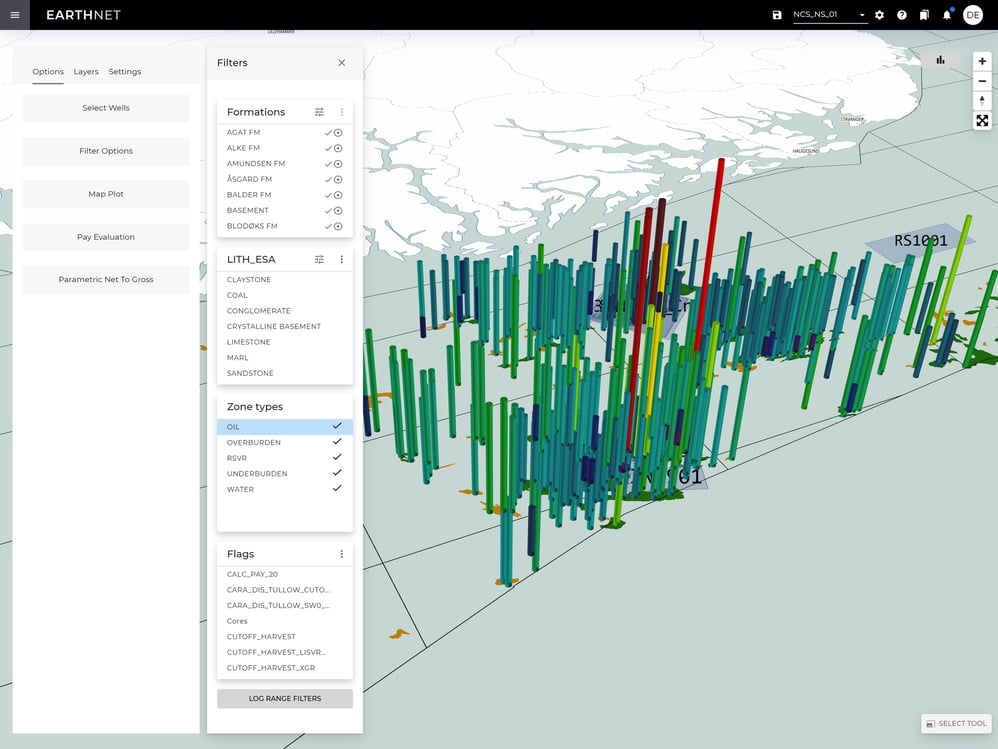 Reservoir evaluation tools

When creating volumetric estimates we need to know the averages and distributions of porosity, water saturation and net/gross related to stratigraphic zones, depth, geographic location etc.
Using the reservoir evaluation in EarthNET Insights, you can calculate both the porosity, water saturation and net/gross for stratigraphic zones. These distributions can be exported to the volumetric calculation tool of your choice where you can do further data-driven uncertainty analysis using Monte Carlo simulation.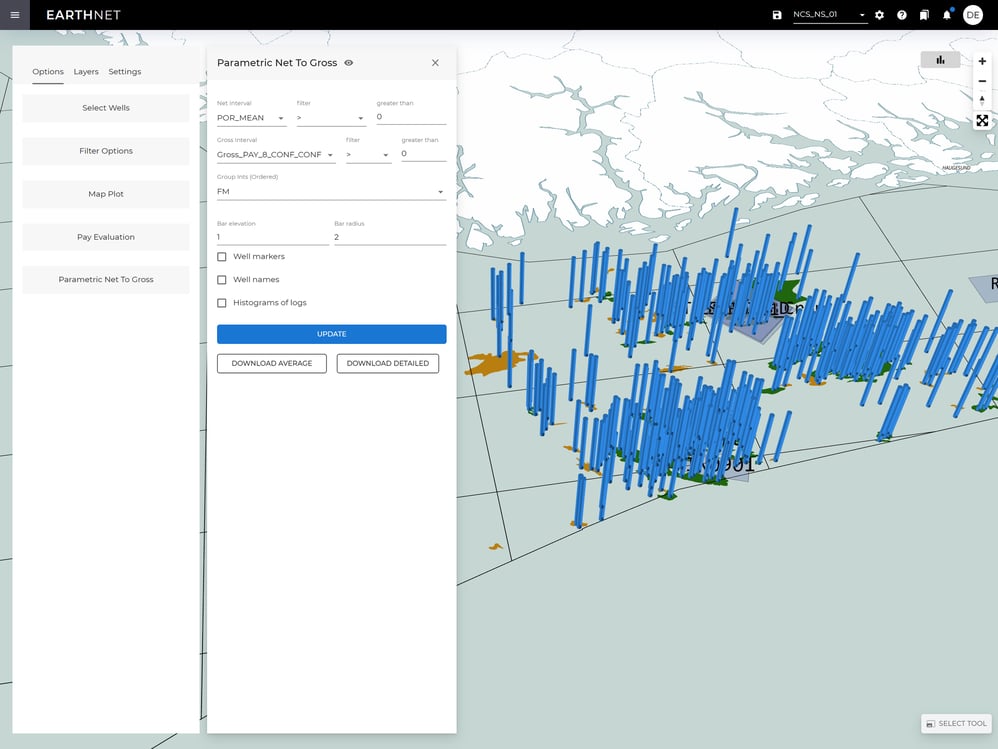 REMOVE HUMAN BIASES
Use all available data to form the basis for your decision-making
The traditional expert-driven approach to decision-making in exploration, field development, and basin screening contexts has proven to be subjective and prone to human biases, resulting in overestimations of hydrocarbon volumes and less accurate geomodels.

With EarthNET Insights, all available data is utilised to deliver fully auditable, reproducible, and cost-effective insights at scale. It provides a complete and purely data-driven basis for volumetrics and hydrocarbon-in-place calculations, reducing uncertainty and minimising risk.
HOW IT WORKS
Get the insights you need to make data-driven decisions
EarthNET Insights allows quick querying of data with many layers of filtering and visualisation of your results in a map format.
Formulate the question you want answered. You can get answers to any question related to the well data in your Data lake.
You can filter by wells, formations, lithology, depth, data quality, reservoir & pay flags, and log value ranges.
Use map plots to select your target property based on your measured and computed logs, and display it on the map.
The histogram shows the property distribution for each of your selected wells, based on your filter settings.
Use the reservoir evaluation tool to create the property distribution you will use as input for probabilistic volumetric analysis.
Export the property distribution to the volumetric calculation tool of your choice, and use Monte Carlo Simulation to compute HCIIP.
"This technology has come up as a way of extracting more insights from wells that are otherwise forgotten about."
RECOMMENDED READING
Explore our resources