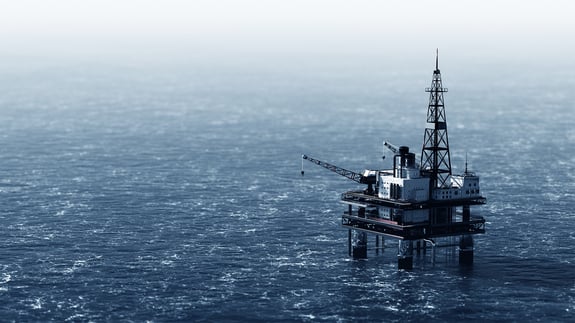 USE CASE
Data ingestion to the OSDU™ Data Platform
THE OPEN SUBSURFACE DATA UNIVERSE (OSDU)
The centrepiece of the new geo-data science universe
The OSDU™ is a cloud-based data platform designed for the energy industry, which enables the seamless integration of data from various sources, such as exploration, production, and drilling data, in a single platform. It is a global initiative that brings together industry experts, technology companies, and open-source communities to accelerate digital transformation in the energy industry. The OSDU™ Data Platform allows for open API connections from any third party application, thereby facilitating an interconnection between them. Connecting data and applications through the OSDU data platform breaks down the silos that have hindered integration in the past.
THE CHALLENGE
Moving data to the cloud and ingesting it to the OSDU™ Data Platform can be a time-consuming and costly process
The costs related to moving data to cloud and ingesting it to the OSDU can be broadly divided into two categories. Firstly, there is the cost associated with migrating the data to the cloud, which can be quite substantial, particularly for large amounts of data. This process can take years to complete, causing many companies to hesitate or be reluctant to migrate data to the cloud.

The second category of cost is related to the administration of the cloud, which typically involves subscription services from companies such as Microsoft or Amazon. These fees can add up quickly, particularly for energy companies dealing with petabytes of data.
OUR DATA INGESTION TECHNOLOGY AND SERVICES
Implement the OSDU™ Data Platform while keeping costs down
What if you could get only the data you needed into the cloud, while keeping "cold data" in your own data servers? With EarthNET you can.

One common misconception about the OSDU Data Platform is that all data must be transferred to a public cloud before it can be used, which is not the case. The reality is that only data that is frequently used needs to be transferred.
Our Data lake works as a data ingestion technology for the OSDU™ Data Platform, and helps companies get on the OSDU without racking up enormous costs. EarthNET Data lake can be connected to your company's existing hard drives, without having to move everything to a public cloud. From our Data lake you will then get a comprehensive overview of all your data on a map.
When you need a specific dataset, it is seamlessly converted from its original format (such as seg-y) to modern file types (ZGY, VDS) that allows rapid random access in all dimensions, and moved to the cloud - with the click of a button.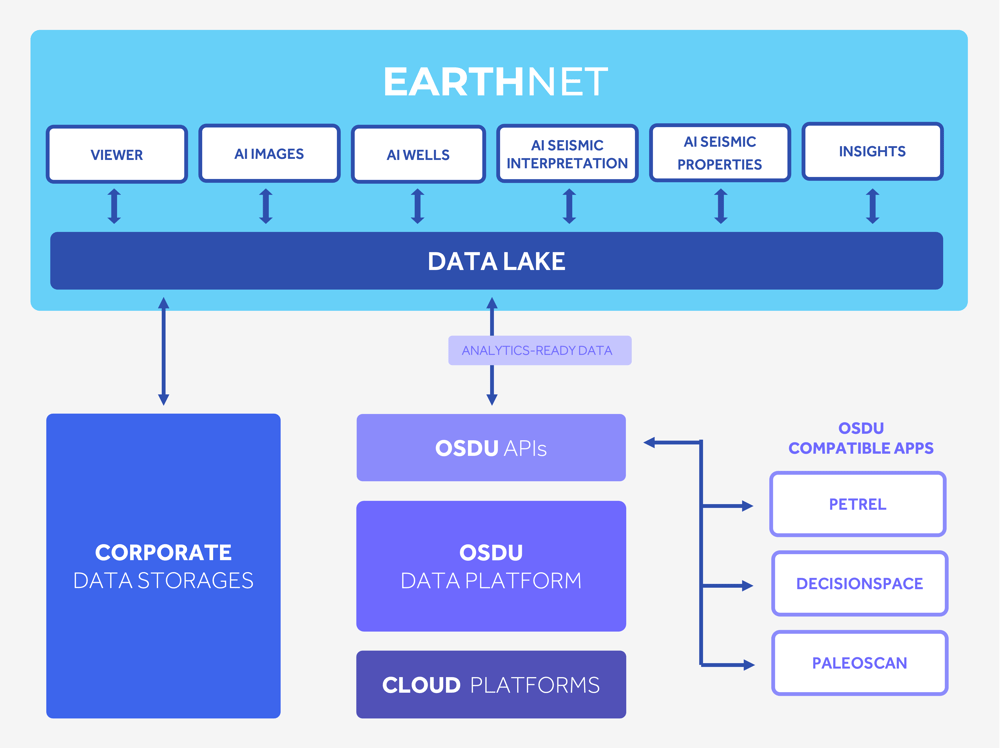 How you can benefit from our data ingestion services
Our solution can facilitate data ingestion with metadata to the OSDU Data Platform in less than a year.
Reduce storage cost through compression, and technology that enables hybrid cloud and on-prem storage solutions.
Optimise compute costs by utilising low-cost on-prem computational centers, and switch to expensive cloud computing only when needed.
EARTHNET AND OSDU
Accelerate data access and improve desicion-making with EarthNET and the OSDU™ Data Platform
EarthNET is developed in alignment with the emerging requirements of the OSDU™ Technical Standard, and provides the additional contextualisation needed to make data analytics-ready, viewers to visualise your data and AI applications to interpret your data with speed and precision.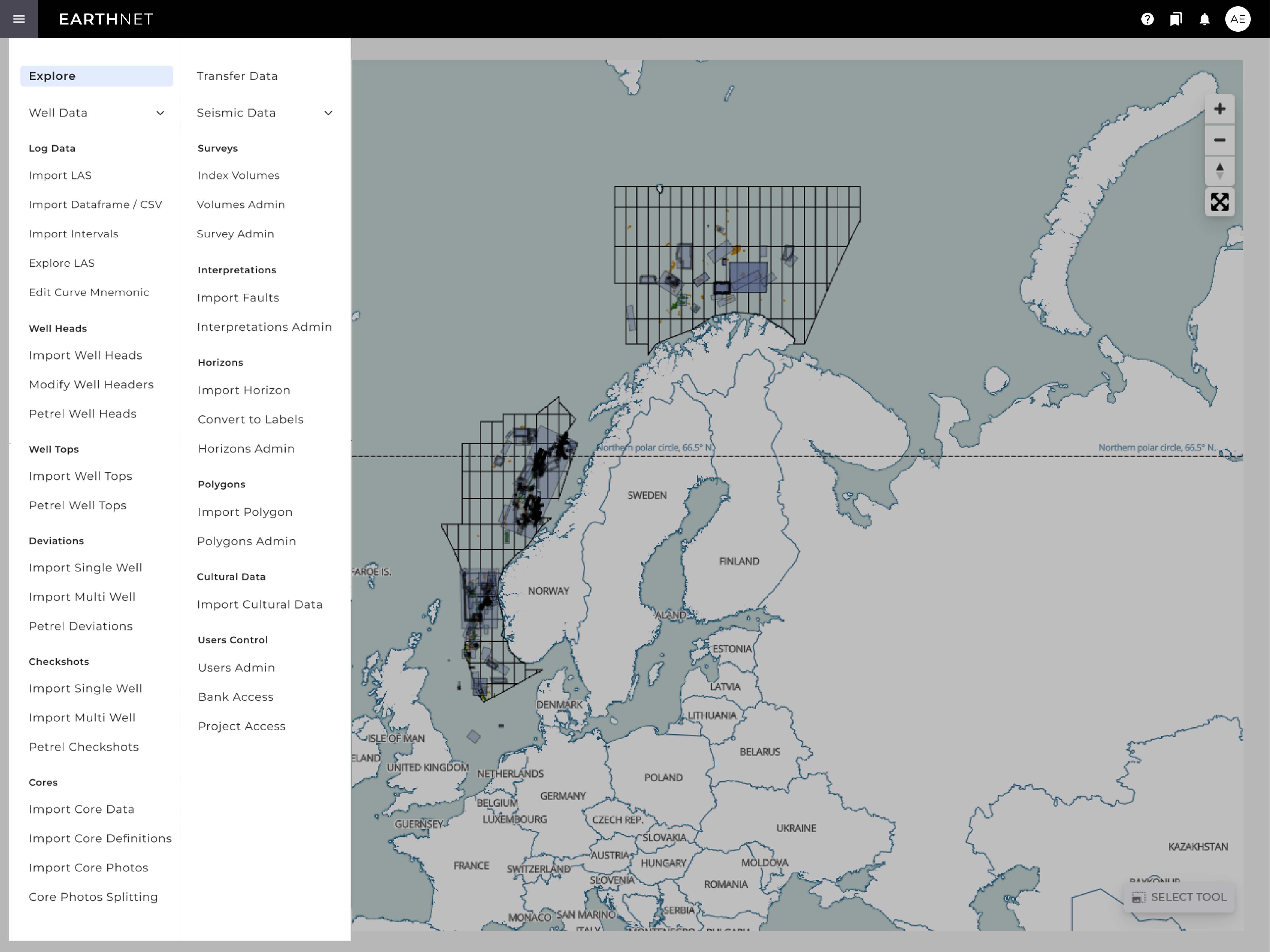 EARTHNET DATA LAKE
Make data from the OSDU™ Data Platform ready for large-scale analytics
Large-scale integrated data analytics requires a greater degree of contextualisation and data cleaning than what is provided by the OSDU™ Data Platform alone.
The EarthNET Data lake represents the first step of your digitalisation journey, making all industrial data accessible, understandable, and analytics-ready. With EarthNET you can clean the data as part of the ingestion process, tag the data with metadata, and make your data analytics-ready.
EARTHNET VIEWER
Visualise data stored in the OSDU Data Platform directly from your browser
Existing software for visualisation of geoscience data is usually built for desktop workstations, which prevents direct access to data stored in the cloud and requires it to be imported and duplicated into the desktop application.

EarthNET Viewer is both cloud-native and compatible with the OSDU™ Data Platform, meaning that it can readily connect to all your data in the cloud and also visualise data directly from the OSDU™ without duplicating it.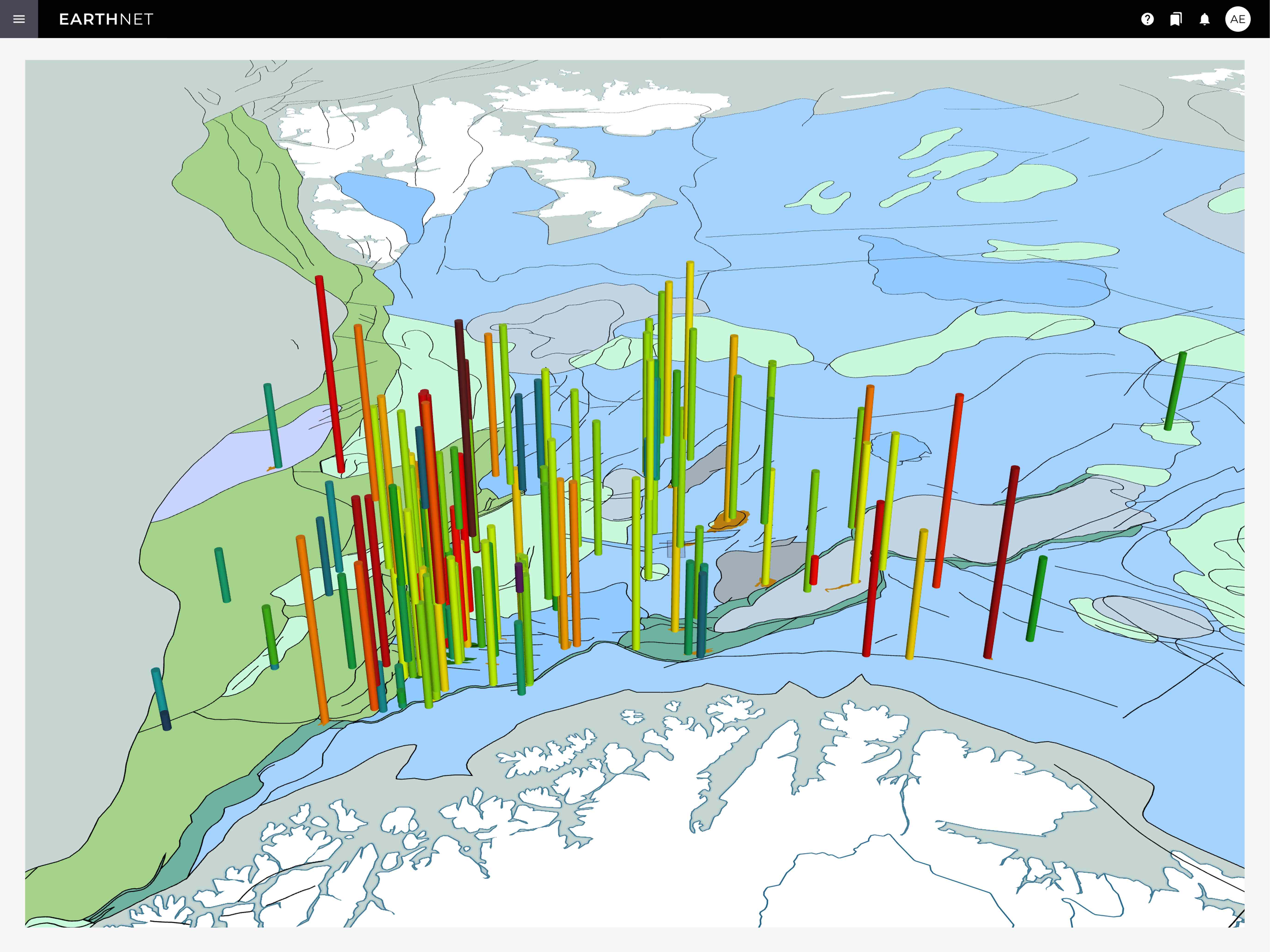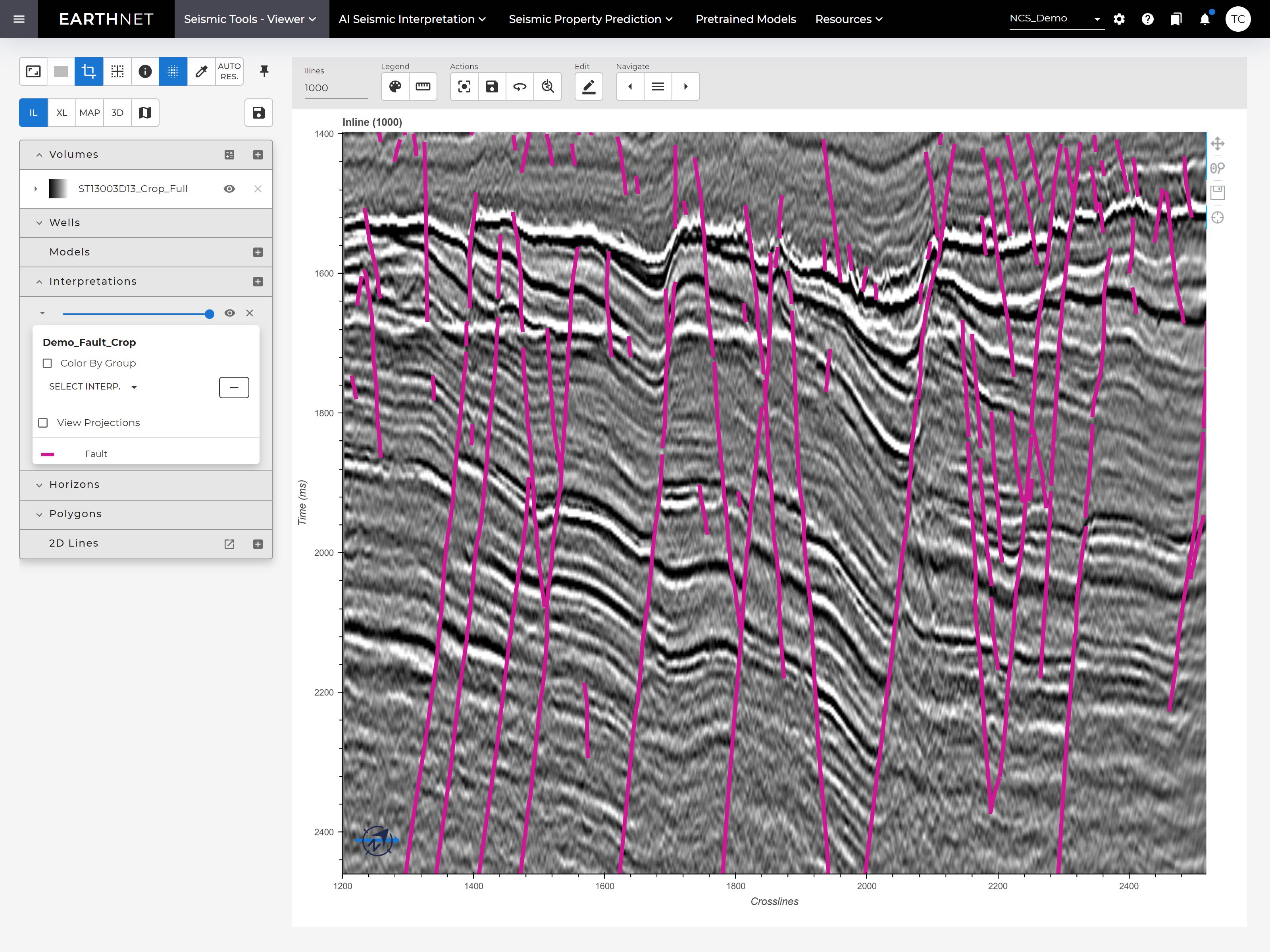 EARTHNET AI APPLICATIONS
Interpret data with speed and precision using EarthNETs AI applications
The EarthNET Suite consists of a variety of AI-powered tools tools for image analysis, well analysis, seismic interpretation and seismic property prediction which enables you to speed up your interpretation workflows from weeks to hours.

Access data stored in the OSDU™ directly from EarthNET, use our AI-powered applications to analyse the data, and push the interpreted data back to the OSDU™ .
"Some try to sell their own hardware for AI platforms in geoscience, and some find excuses for being late due to public cloud dependencies, whereas Earth Science Analytics utilises the client's existing infrastructure and hardware to provide the cloud-native, web-based EarthNET platform."
SOLUTIONS
Learn more about our products and services
Our groundbreaking suite of geoscience tools leveraging cloud-technology, high performance computing, and artificial intelligence to liberate your subsurface data and innovate your workflows.
PROJECTS
Consulting Services
Our expert team is here to guide you every step of the way, whether you're just starting out with AI and machine learning or looking to integrate EarthNET into your existing operations.
DATA PACKAGES
Multi-Client Products
With our data packages, you get access to cleaned, indexed, contextualised, and interpreted data that can be plugged directly into your geoscience workflows, saving you time and resources.