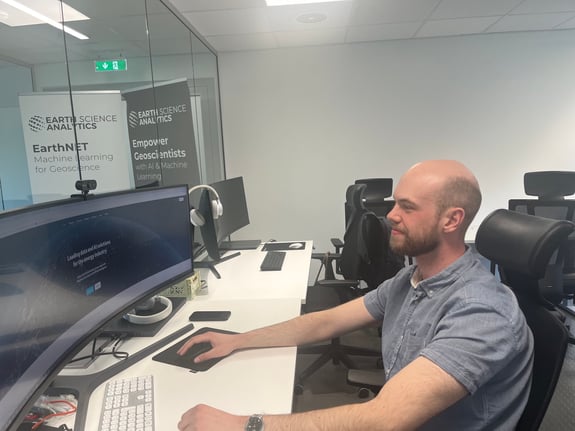 EARTHNET SUPPORT
Dedicated geo/data
scientists at your service
The support team
At Earth Science Analytics, we take pride in our commitment to customer satisfaction, and our support team is a crucial part of that. With their knowledge, expertise, and dedication, you can rest assured that you're receiving the best possible support for any EarthNET-related issue.
Our support team consists of skilled geoscientists who possess an unparalleled knowledge of EarthNET's functionalities and capabilities. Their expertise enables them to provide quick and effective solutions to any issues that you may encounter while using our platform.
By working closely with our development team, they ensure that any issues that require further attention can be quickly resolved. This collaboration guarantees that our customers receive the highest quality support possible.
SEND AN E-MAIL
VISIT OUR
The EarthNET Help Centre allows access to relevant self-help content and get you in direct contact with EarthNET Support.
ALIENOR LABES
Support Coordinator
HOANG NGUYEN
Geo/Data Scientist
WIKTOR BÖNKE
Junior Geo/Data Scientist
Our support team can assist you with:
We understand that every customer's needs are unique, which is why we offer flexible support options. If you require a more detailed explanation of your issue, our support team can schedule a meeting or phone call to discuss it further. We want to ensure that every customer has a seamless experience with EarthNET and that our support team is always available to provide assistance whenever it's needed.
From software bugs to unexpected errors, we're here to provide you with prompt and effective solutions that get you back to working with EarthNET seamlessly.
We value your input and strive to improve our software and services continuously. If you have any feedback or suggestions on how we can make EarthNET better, our support team is eager to hear from you.
HELP CENTER DOCUMENTATION
Our Help Center is a valuable resource that contains detailed documentation on how to use EarthNET effectively. If you notice that something in the Help Center is outdated or missing, please let us know, and we'll ensure it's updated promptly.
FREQUENTLY ASKED QUESTIONS
Do I have support included in my licence?
Yes, if you have a software license you will automatically get access to Support.
How do I access the knowledge base?
All users get username/password to Zendesk which gives them access to our Knowledge base. The EarthNET in-app widget allows you to search our Knowledge base content and reach out to Support directly from within EarthNET.
Do I need a background in Machine Learning in order to work in EarthNET?
No, you don't! EarthNET provides users with pre-trained Machine Learning models for different purposes, such as fault interpretation, injectite interpretation, etc. Those models were trained using public datasets and optimised the performance by Earth Science Analytics.

You can immediately apply those pre-trained models to your data without considering Machine Learning methods. However, if you want to improve the performance of the pre-trained models by retraining them with their dataset and label, a basic knowledge of Machine Learning is sufficient enough for you to achieve the desired results.
Do I need to code in order to work in EarthNET?
EarthNET provides a codeless user interface for Machine Learning applications, so you do not have to know programming to start using EarthNET.
Your software is cloud-based. What does this imply?
EarthNET is a cloud-native application designed for a cloud computing architecture. The benefit of being a cloud-native application is that EarthNET allows users to access their projects from any laptop, workstation, or mobile phone, as long as the devices are connected to the internet. To work with a project, you only need a web browser and log in to your account.
Data is stored on a cloud-based or local server, depending on customer requirements and policies. Multiple users can work simultaneously on a project, which avoids communication barriers and duplicated data. You can select different cloud workers to run a process in EarthNET (such as training and applying a model). Therefore, the performance of Machine Learning models will not be affected by the local machine used to view and interact with the project.
Are you compatible with the OSDU™ Data Platform?
Yes, EarthNET is developed in alignment with the emerging requirements of the OSDU™ Technical Standard. EarthNET provides the additional contextualisation needed to make data analytics-ready and the AI tools to turn industrial data into real-life business value.
Through EarthNET Data lake you can ingest data to the OSDU™ Data Platform, clean the data as part of the ingestion process, tag the data with metadata, and maintain version control as data grows and improves over time.
I already have a Machine Leaning model from another software. Can I import it to EarthNET?
Currently, you can download the model as a stand-alone file. You can download the data from EarthNET, play with the model, and upload a new model or upload results. We can integrate customer's models into EarthNET if you follow the templates we provide. For more information contact support@earthnet.ai
Can I customise my ML training model hyperparameters?
Yes, EarthNET allows users to tune the parameters in various Machine Learning algorithms. With this, you can tune your hyperparameters to enhance the quality of predictions and improve the model score.
How large seismic and well data sets can EarthNET handle?
As a cloud-native application, EarthNET can handle thousands of wells and multiple seismic mega-surveys covering thousands of square kilometers.
Learn more about our products and services
A groundbreaking suite of geoscience tools leveraging cloud-technology, high performance computing, and artificial intelligence to liberate your subsurface data and innovate your workflows.
PROJECTS
Consulting Services
Our expert team is here to guide you every step of the way, whether you're just starting out with AI and machine learning or looking to integrate EarthNET into your existing operations.
DATA PACKAGES
Multi-Client Products
Subscribe to analytics-ready well data, including lithology, porosity, water saturation, and other property logs. Get access to cleaned, curated, indexed, and contextualised data.