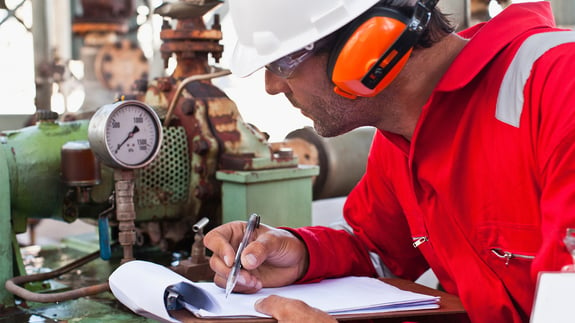 USE CASE
Optimising production
OPTIMISING PRODUCTION
Ensure maximum extraction of resources from a field
Optimising production requires a detailed analysis of subsurface conditions. The process is crucial because it ensures that the extraction of resources is done in a timely and efficient manner, maximising pay potential early in the production phase. As a field enters the production phase, natural geological variations and properties can affect the efficiency of extraction. Therefore, analysing these conditions becomes necessary for optimising production.
Why you need AI-driven geoscience software
When using AI for reservoir characterisation studies you can increase workflow efficiency with more than 3X compared to traditional methods.

Traditional methods for reservoir characterisation are very time-consuming and expensive. AI software can assist geoscientists to save time that can be used to exploit the vast amounts of data available from producing fields.
By using AI models trained on vast amounts of QC'ed data, you reduce the human bias and subjectivity associated with traditional methods, thus increasing the accuracy of the interpretation.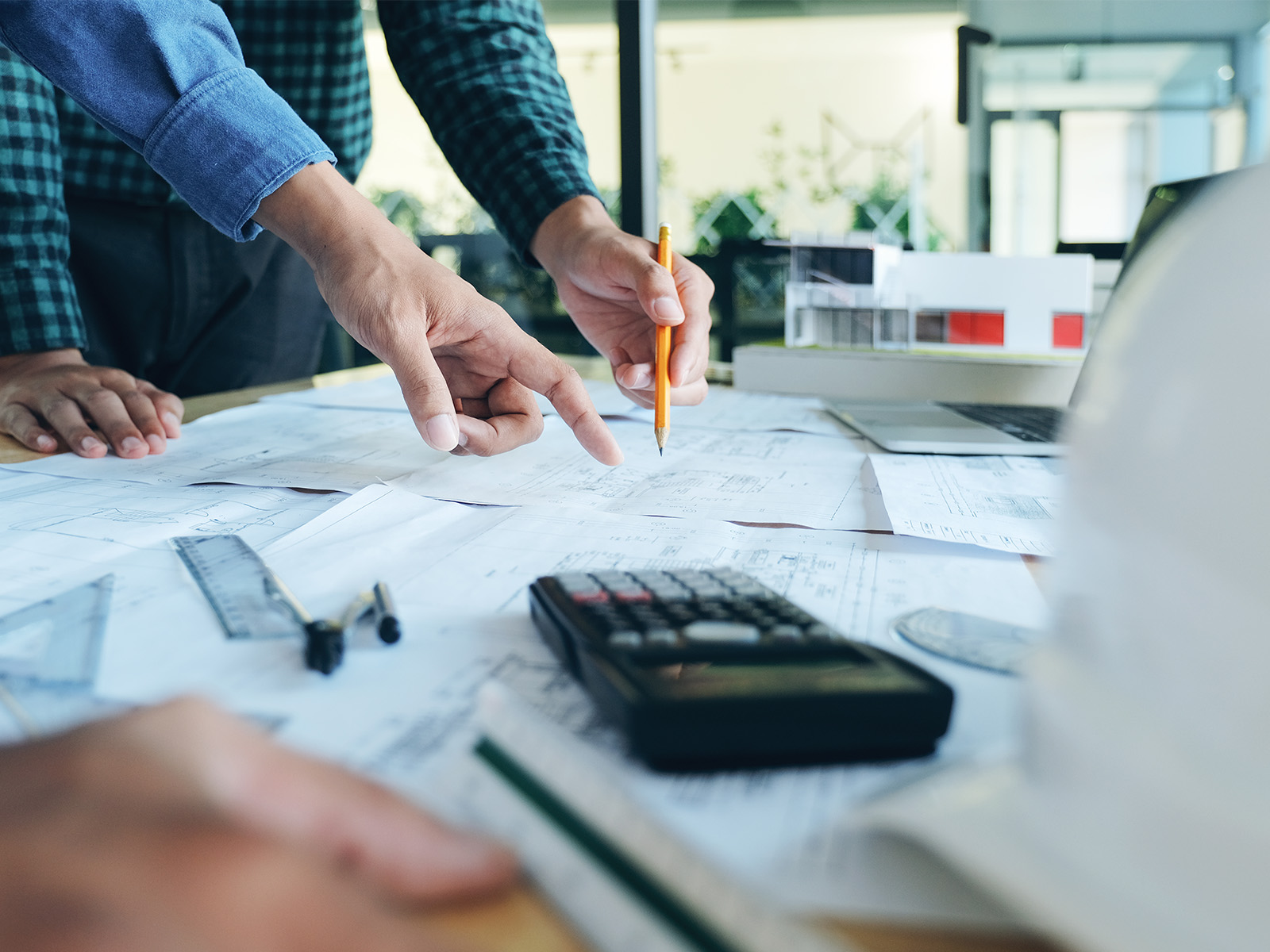 TRADITIONAL METHODS
Expert-driven, labour-intensive and manual processes
In order to optimise production, we need a high-quality characterisation of the reservoir with associated uncertainty measures, and we need to understand how fluids have moved through the reservoir over time. 3D and 4D reservoir characterisation studies are therefore essential in this process.

Traditionally this type of work involves seismic inversion, rock-physics studies, and specialised 4D studies. This multi-step process is both time-consuming and costly, and demands the expertise of highly skilled individuals.
AI-DRIVEN GEOSCIENCE SOFTWARE
Optimising production with EarthNET
Quantifying the reservoir's properties is essential for populating geocellular models for volumetric calculations and flow simulation studies. This process has been very expert-driven, labour-intensive and manual, which is why have developed an AI-assisted workflow for optimising production. With EarthNET, you can refine the 3D structural seismic interpretation, characterise the 3D property distribution based on seismic and well data, and map the changes in water saturation over time using 4D seismic data. By using EarthNET you can reduce your workflow cycle time from more than 12 months to less than 4 months.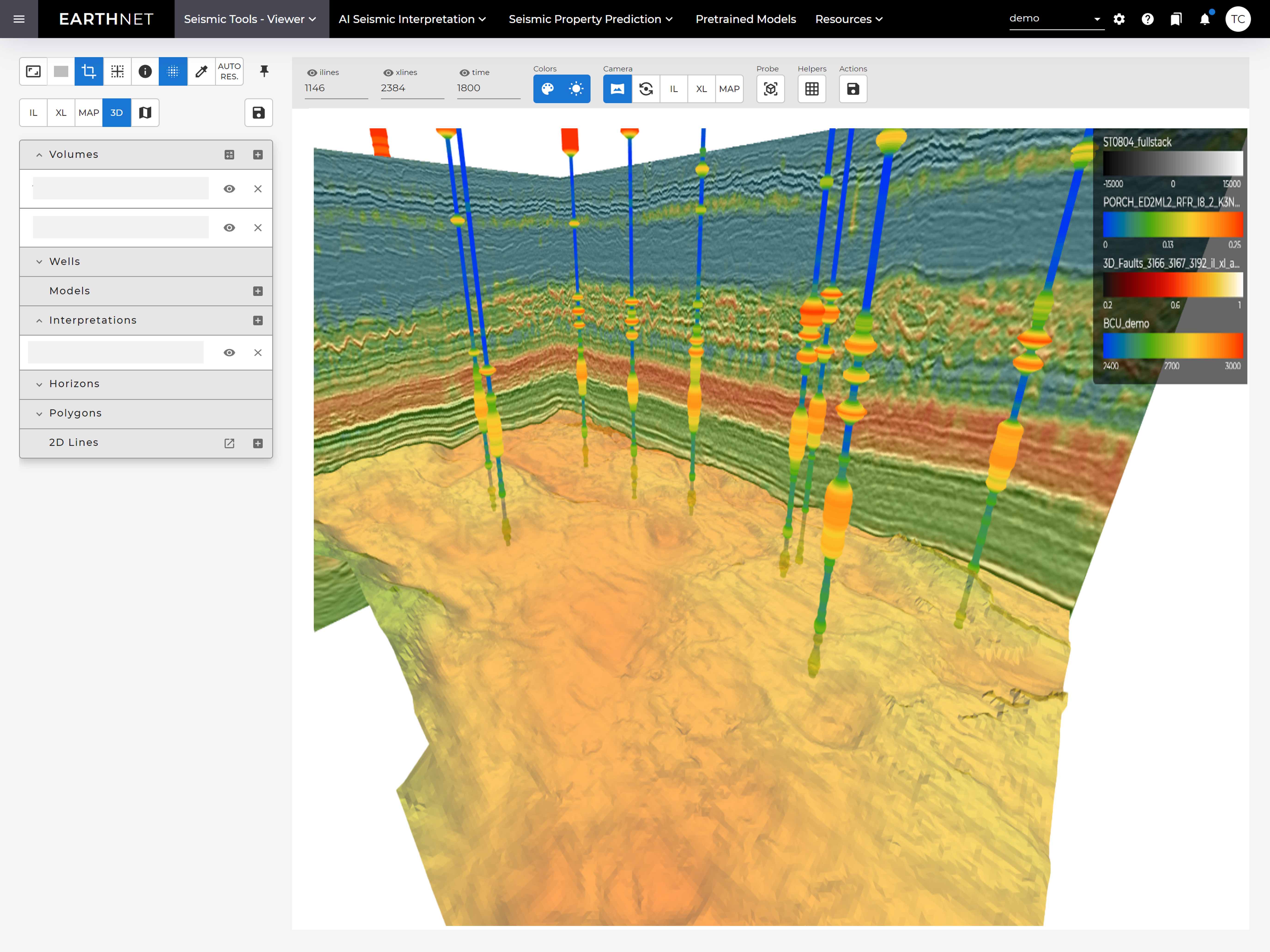 EARTHNET AI SEISMIC PROPERTIES
Predict rock and fluid properties from seismic data using AI
With EarthNET, you can train AI models on a combination of well and 3D seismic data to predict rock and fluid properties. By doing so you can leverage all the data in your field to build purely data-driven models.
The AI models can predict properties such as acoustic impedance, Vp/Vs, density, lithology, porosity and water saturation. You can also quantify the uncertainty of the property predictions with probabilistic methods, as well as the reliability of the models with advanced blind testing techniques.
You can leverage your 4D seismic to map the flow of reservoir fluids through time. This is done by training water saturation models on the base survey and using the model to make predictions on all vintages of the timelapse seismic.
"Application of these workflows on our Utsira OBN dataset has already produced startling results, and we look forward to repeating this success across our global datasets."
SOLUTIONS
Learn more about our products and services
Our groundbreaking suite of geoscience tools leveraging cloud-technology, high performance computing, and artificial intelligence to liberate your subsurface data and innovate your workflows.
PROJECTS
Consulting Services
Our expert team is here to guide you every step of the way, whether you're just starting out with AI and machine learning or looking to integrate EarthNET into your existing operations.
DATA PACKAGES
Multi-Client Products
With our data packages, you get access to cleaned, indexed, contextualised, and interpreted data that can be plugged directly into your geoscience workflows, saving you time and resources.